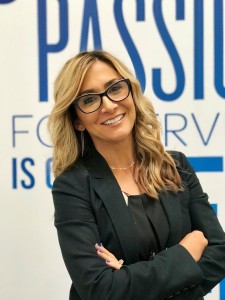 Award by the International Customer Management Institute recognizes trailblazers in the contact center and customer experience industries; Rote recognized for implementing Conversational Selling Analysis Platform by RapportBoost that helped her team double its live chat sales conversion rate
LOS ANGELES, October 4, 2018 (Newswire.com) - RapportBoost.AI, a Los Angeles-based technology company that provides augmented intelligence solutions to brands that utilize conversational selling to engage potential customers online, is proud to announce that Heidi Rote, director of North America Sales Center for its valued client, Jenny Craig, was named to this year's ICMI Movers and Shakers.
The annual list recognizes trailblazers in the contact center and customer experience industries.
Rote was cited specifically for implementing RapportBoost's Conversational Selling Analysis Platform that helped dramatically increase her company's live chat performance metrics.
"Heidi is an incredible inside sales, contact center and live chat leader that cares immensely about both her P&L and the Jenny Craig brand," said Tony Medrano, CEO of RapportBoost.AI. "Heidi recognized that there was a fundamental difference in the nature of chat conversations and conversational selling, and that live chat could drive the financial performance of her contact center if optimized with artificial intelligence. We're privileged to work with such forward-thinking and metrics-focused leaders as Heidi and the Jenny Craig contact center team. They are true 'Movers and Shakers' in the contact center and live chat world."
"I'm honored by this recognition and continue to be ecstatic about our partnership with RapportBoost," said Rote. "If a good chat platform is the nuts and bolts of live chat communication, then RapportBoost.AI is the heart and soul. Our brand is too valuable to trust its conversations to a chatbot or to chat agents trained with outdated email or phone sales scripts. All innovative contact center leaders should take a look at RapportBoost ASAP."
"Innovation, customer satisfaction and sales are in our DNA at Jenny Craig," adds Rote. "We continuously strive to have better conversations and relationships with our customers. Our managers, agents and customers have all benefited monumentally from our work with RapportBoost and our team loves using their conversational selling analysis platform."
The 2018 ICMI Movers and Shakers Award shines a light on the hardworking, creative individuals who are inspiring excellence, motivating their peers and shaping the future of customer service. The media outlet honored more than 30 workforce managers, trainers, frontline employees, technology leaders and customer experience leaders in this year's list. The honorees will be publicly recognized at the ICMI Contact Center Demo Nov. 12-14 at Red Rock Resort in Las Vegas.
About RapportBoost.AI
RapportBoost.AI is the leading conversational sales analysis platform for brands that use chat, SMS and messenger tools to engage customers. RapportBoost.AI uses artificial intelligence to optimize chat conversations in order to drive dramatic and sustained improvements in conversion rate, order size, customer satisfaction, renewal rate, average handle time, first contact resolution rate, agent retention and happiness and other critical contact center metrics. Learn more about how to supercharge chat conversations for a company's brand from the team at RapportBoost.
Source: RapportBoost.AI
Share: